When I first started writing the another jennifer blog, I was compelled to explore the topic of philanthropy – how we define philanthropy and the unique ways in which we can give back to our communities and planet every day.
Here are a few ways I'm personally giving back.
Philanthropy Friday Stories 
I've been writing my Philanthropy Friday series since October 2011. Each Friday, I share stories of how people and businesses make giving back a part of everyday life. It serves as inspiration for others to do the same, including me!
Global Team of 200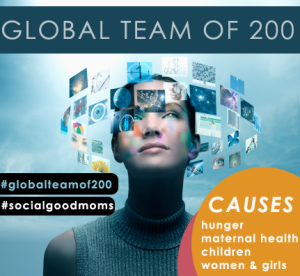 I write at least two posts per month as a proud member of the Global Team of 200. The Global Team of 200 is a highly specialized group of members of Mom Bloggers for Social Good that concentrates on issues involving women and girls, children, world hunger and maternal health. I also share my fellow members posts and information from our partners around the world on Twitter.
Our Motto: Individually we are all powerful. Together we can change the world. We believe in the power of collective action to help others and believe in ourselves to make this world a better place for our children and the world's children. Join in on the conversation by following #globalteamof200 on Twitter.
This video explains why I love being a part of the Global Team of 200
My Giving Pledge
As I started writing more about philanthropy, I realized that I could spread out my donations to charity throughout the year for a bigger impact. Waiting until the end of the calendar year just wasn't cutting it. Each month, I donate to at least on nonprofit organization. And I write about my Giving Pledge to keep myself accountable and to inspire others to give money, if they can.
Volunteering
In my local community, I volunteer my time and expertise in social media marketing to the Southern Midcoast Maine Chamber. This work entails co-leading a Social Media Task Force which aims to educate chamber members on the use of social media in business while also promoting our beautiful region. We put together free monthly educational workshops and inform chamber staff, board and members on issues related to social media and online policy.
In addition, I volunteer at the Mid Coast Hunger Prevention Project (often with my son, G) stuffing backpacks with food so that elementary school kids in my local area will have enough to eat over the weekends.