I fear I made a mistake this Halloween season.
Or not. It depends on how you look at it.
In passing, I mentioned the existence of a Candy Monster.
I was putting up our Halloween decorations and I was left with two cute bags that I decided to hang on my boys' bedroom doors.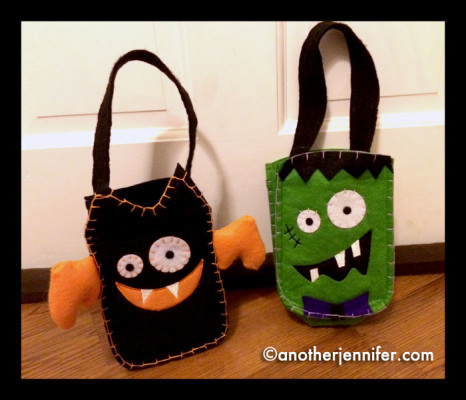 "Mom, why did you put the bags on our doors?" asked Biz.
"So the Candy Monster can come by and put candy in it," I replied.
I didn't think much of it. I like to mess with Biz. He's sarcastic, like I am. He'll pretend he's afraid of the dark because he doesn't want to walk up the stairs for something, and I'll tell him to turn on the lights so the monsters won't get him. I'm supportive like that.
I'm going to have to explain a lot to his future teachers. My guess is that about 50% of what he says is truth, while the other 50% is just made up to see if people will believe him.
They usually do believe him. He's a good storyteller.
I didn't think much of the comment until a day or two later when my husband noted that Biz had been checking his bag to see if anything was in it. After telling G about the Candy Monster, he started looking too.
They mentioned the Candy Monster a few times before Halloween. I was vague about the Candy Monster's existence.
"I don't know if the Candy Monster is real or if he's good or bad. He might leave you candy or steal your candy. You never know."
I felt a bit guilty about that comment until I remembered Elfie. If that stupid elf can keep my kids from misbehaving during the holiday season as long as I remembered to move him (or come up with a good enough excuse for his lack of movement), maybe a candy stealing monster wasn't so bad. Especially with Reese's Peanut Butter Cups in the house.
Did I just come up with a million dollar idea? Could the Candy Monster be the next Elf on the Shelf? The thing that everyone thinks they want until they find out too late that they're stuck with a new holiday tradition until their kids are old enough to figure out that it's all a big ruse?
Or maybe it could be the opposite of Elf on the Shelf. The Candy Monster could justify moms and dads eating their kids candy while they sleep.
Still, I'm not sure I have the energy for another lie holiday tradition to keep up for my kids.
I ended up putting a piece of candy in each of the bags the night before Halloween.
I'm not sure they would have remembered to check had I not mention the fact that it was Halloween morning and the Candy Monster just may have been in the area.
Will they remember the Candy Monster next year? That remains to be seen.
What do you think? Should I keep it up or hope they forget about the Candy Monster all together?
p.s. Don't be stealing the Candy Monster idea and selling it to investors. Not without me, anyway.
Can you imagine not having the opportunity to use a toilet during the day? What if your kids had to go to the bathroom in an open area behind their school?
Up until now, this was the norm for the children and teachers of Tsimahavaobe Primary School in the growing and very poor coastal town of Morondava, Menabe region of Madagascar.
Remember my post about building futures in Madagascar with Wateraid America back in the beginning of July? (If you missed it, read Building Futures in Madagascar with Wateraid America.)
Well the construction is now complete, and those children and teachers will be going back to school with a safe place to use the toilet and access to clean water. There are separate stalls for boys and girls and a handwashing station.
Not that it'll be a big surprise. According to Ernest Randriarimalala, WaterAid's field staff, pupils at the school were so excited about the changes taking place at their school during the summer, they preferred to play in the schoolyard so they could see the day to day changes during construction.
I was given the opportunity by Wateraid America to ask questions of the field staff in Madagascar who would then relay my questions to the children and families. I wasn't sure what I wanted to ask at first, so I talked to my kids about what they wanted to know about the project in Madagascar. Biz (age 4) wanted to know about the animals and what it was like to live there. G (age 8) wanted to know about the school, what kind of games the kids played and how they got water.
Reading some of the observations from Ernest, who took the time to ask many questions in the field (for me and others), it was clear that these children were not focused on playing games and learning in school. They talked about how they would miss school a lot because they would be sick and it took an hour and a half to get to the health center.
"The spring used to get dirty from water flowing down the hill. It made us ill."
They talked about how they were afraid to go in the old latrine when it rained because the clay on the walls would fall down.
"When it rained, we used to go in the bush."
Thanks to the new toilet construction, where these kids once were forced to openly defecate, the children can now play.
The teachers are planning their hygiene training for the kids to help prevent disease, and there's a development action plan for the school for the first time. According to the head teacher of the school, Aimee, "It was unthinkable because we were in a dirty environment and drinking dirty water and were not able to think any further than that. What is happening here now is something magic! Parents, pupils and communities are all talking about it."
That's something to celebrate.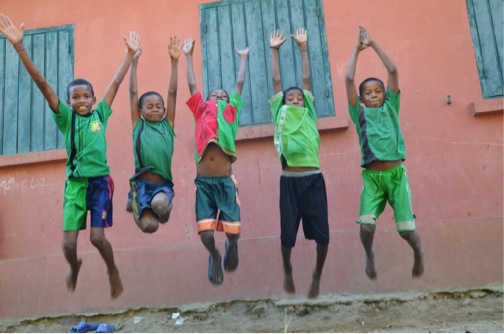 Read more from Wateraid: Building is complete
Photo credit: WaterAid/ Ernest Randriarimalala