I don't do a ton of giveaways on this blog, but I'm involved with two big promotions that I think you will appreciate.
I only promote giveaways for things I wouldn't mind winning myself and, well, these are pretty great. I think you will agree.
April Showers Spring Giveaway Event
The first giveaway is going on through April 15th and is hosted by A Mother Thing.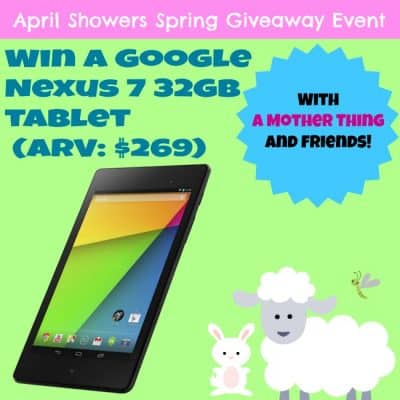 It's been a rough winter for some, and so we're thinking SPRING now. And why not think big by giving away a Google Nexus 7 32GB tablet (ARV: $269) to one lucky winner?! I've teamed up with some awesome bloggers to bring you a chance to do just that! So join in, and you could be the proud owner of this awesome tablet!
This giveaway is brought to you by your host:
and your amazing co-hosts:
My Balanced Plate
Written Reality
Top Notch Mom
In the Playroom
The Life and Times of the Working Mum
Great Contradictions
Look by Liz Lewis
Dixie Chik Cooks
The Everyday Home
Inspiration for Moms
Diamond in the Rough
Far From Normal
No Holding Back
Another Jennifer
Housewife 2 Hostess
To enter, simply add your entries to the RaffleCopter form below. The giveaway will run from April 1st –April 15th, 2014. One winner will be drawn on or after the end date, and the winner will have 24 hours to respond via email with their address. This contest is open WORLD WIDE and can be won by anyone who is 18 years or older. All entries will be verified to ensure fairness. Please read the Ts and Cs for further information.
No Mother is Perfect, But Every Mother is Unique Mother's Day Giveaway
The second giveaway is from your favorite co-authors of The Mother of All Meltdowns (including me!). Mother's Day is Sunday, May 11th 2014, and we want moms everywhere to accept the meltdowns, stop chasing perfection, and embrace their uniquity. You won't find this word listed in Webster's, but you will find it within every mother on the planet.
Why are we hosting this giveaway? Because in addition to Mother's Day, we're also celebrating the launch of a new community site for for the perfectly imperfect mother! No Mother is Perfect is a place where you can let your guard down and talk about the meltdowns, struggles, and less rosy aspects of being a mom.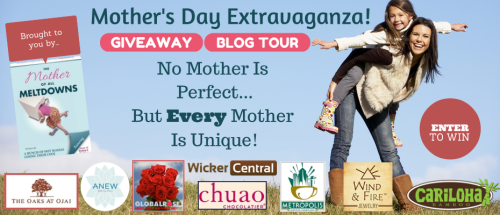 Enter to win our Mother's Day Extravaganza on No Mother is Perfect between April 1, 2014 to May 11, 2014 to win one of three fabulous prize packages including a three night stay for two at a destination spa! This amazing giveaway is sponsored by The Oaks at Ojai, Cariloha, Wicker Central, Metropolis Coffee Company, Wind & Fire Jewelry, Chuao Chocolatier, Global Rose, and Anew Riesling.
What will you do if you win?
March 4th is National Grammar Day, a day to march forth to speak well, write well, and help others do the same. You can check out the website for all the fun grammar-related articles and activities. Or my post last year, which shared some of my past grammar-related articles from the blog.
This year, I saw a fun contest that involves haiku. I love haiku, and I've written a few here in the past. The American Copy Editors Society (ACES) is hosting the National Grammar Day Tweeted Haiku Contest. The contest is open until until noon, March 3, with the winners announced on March 4, National Grammar Day. You'll need to tweet your grammar-related haiku and use the hashtag #GrammarDay.
In honor of the big day, I decided to write haiku about my three biggest grammar-related pet peeves. (If you've worked with me on a writing project, you'll understand!)
1. I cannot stand it when people put two spaces after a period. Yes, many of us were taught to use two spaces in school, including me. It's incorrect and has been since we've started using computers regularly. It's time to stop. (Read this article for more explanation.)
No typewriters here One space after period Is the way to go #grammarday #haiku

— Jennifer Barbour (@anotherjenb) March 3, 2014

2. How many exclamation points are needed to show that you are excited? I say one. If you are a good writer, you can show your excitement through your words. Nine exclamation points after every sentence in a blog post, letter, email or Facebook status is a tad overkill.
Exclamation points How excited can you be? Just one should suffice #grammarday #haiku

— Jennifer Barbour (@anotherjenb) March 3, 2014

3. When you google Comic Sans, it autofills with things like "Comic Sans hate" and "Comic Sans criminal." Unless you are an eight year old girl, please stop using it. Now.
Use of Comic Sans You cannot be serious The font should be banned #grammarday #haiku

— Jennifer Barbour (@anotherjenb) March 3, 2014
What's your biggest grammar pet peeve?