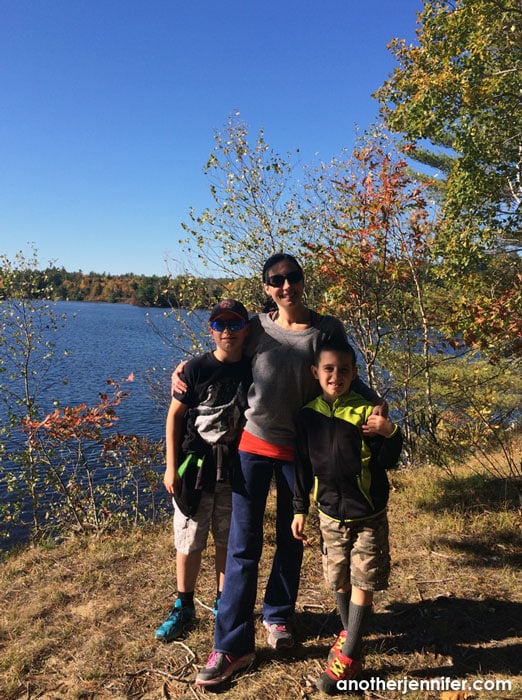 "Bacon," Avery replied when I asked what I should blog about that evening.
My mind was all over the place and though my boys were with their dad for the weekend, I couldn't bring myself to just sit and write. I had the entire weekend to myself, and the words weren't flowing. I needed them to be flowing.
I was dropping Avery, a 5-year-old who calls me Auntie Jen, and her (my) family off after a workout. An outdoor workout on a cool Maine Sunday morning where I did things like deadlift cinderblocks, crawl up a hill, carry buckets filled with bricks and smash a tire with a sledgehammer. A workout that left Avery's dad itching to chop wood as we drove home. We had driven in the "bacon car," so named because it has the words from my tagline "eat bacon" on my back windshield.
"Wolfpack," Avery suggested after I noted that maybe bacon was too expected. I also noted that WolfPack Fitness, our outdoor "gym," has already been mentioned on my blog a couple of times (here and here).
The words didn't flow Sunday night either. I paid bills instead and let my web developer change the theme to my website (which explains the new look you are now seeing). I attempted to view and respond to messages. So many messages. In so many places. No wonder my mind was everywhere.
On Monday, I turned to Facebook and asked friends for some inspiration. I'm known most for bacon and philanthropy, so it's no surprise that the first six comments referred solely to bacon, followed by some suggestions around generosity and giving. There was mention of music, the changing of the season, and focus. A good friend from high school mentioned wanting to hear more about WolfPack specifically. I noticed other friends liking certain comments on the thread, showing their vote for my inspiration.
The writer in me started to weave it all together to find the storyline in Avery's innocent response and a Facebook status I half expected to be ignored.
Two comments stood out for me.
"Selflessness," a simple word left by my good friend, Jim Bouchard, who has written on the topic of selfless selfishness.
My friend Linda responded, "What about: it's good to do something good for others, but sometimes you have to do something good for yourself? Like a nice open air workout?"
Linda is my workout buddy on Friday mornings and the woman who took the above photo of me and my boys before a "playout" on an island on a weekday where there was no school. We're still fairly new to that open air workout, but our form is getting better and our weights heavier. The fun is never absent, and the view is always spectacular.
The real thread in all of this is a walk down a long dirt driveway I took on an unseasonably warm Friday at the end of September. The last piece of the puzzle in my quest to reclaim myself after divorce. A selflessly selfish act so my physical strength could match my inner strength. An act that has also given me the chance to be alongside some wonderful, generous people who also value selflessness and a happy life over pain and impressing others.
And, yes, I selflessly eat bacon and eggs before every workout.
I could fret about the lack of words flowing despite a large deadline looming ahead of me. Or the fact that I can't quite keep up with all those messages. But when I stop and think about it, I had a spectacular weekend. I did some needed organizing, prioritized my to do list, went to a party, talked to some close friends, had a fun impromptu meetup, and pretended to milk a cow with bricks in my hands. At the end of it all, I got to hug my boys.
The words. They will come. They always do.
Each Friday, the another jennifer blog shares stories of those who incorporate philanthropy into their everyday lives – personally and professionally – in a creative and unique way. If you have a story you'd like to share, please contact Jennifer.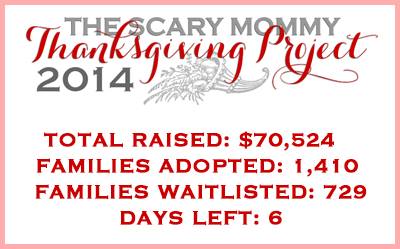 The above image came across my Facebook newsfeed yesterday morning (11/6/14). A reminder of just how generous the Scary Mommy Nation is and just how much more need there still is as we head into the holiday season.
I wrote about the Thanksgiving Project last year around this time and how it was started:
The Thanksgiving Project started as a simple blog post from Jill Smokler (aka Scary Mommy) back in 2011. This post talked about how some people in the Scary Mommy community had a rough year and simply couldn't provide a Thanksgiving dinner for their families. Some could barely afford a loaf of bread.

Jill had the idea of asking her large community of followers for help. Would they be willing to donate some money, even a small amount, to make sure everyone would be able to celebrate Thanksgiving?

The answer was a resounding Yes. Jill was overwhelmed with people who wanted to donate. She also heard from many others who needed help. The story received a ton of media attention, including on Good Morning America, Nightline and the home pages of Yahoo and Huffington Post.

An average Thanksgiving dinner costs $50. In that first year of the Thanksgiving Project, the Scary Mommy community raised more than $20,000 and provided meals for more than 400 families.

After the success of the first impromptu Thanksgiving Project, Scary Mommy Nation quickly became a registered 501(c)3 nonprofit organization powered by mothers helping other mothers. As Jill told me in an email, "Once I saw the impact the site could have, I couldn't not want to do more. I realized that people really want to help, they just need to be shown how to do it. Being official helped give me the structure I needed as well as a legitimacy that's needed when collecting money."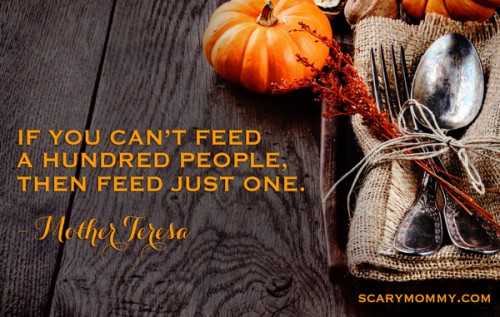 This project reminds me of how much impact a community of people – most of them mothers – can make in the lives of others. It also makes me proud to be a blogger. Collectively, we can use our blogs and our social media influence to spread the word about helping our peers.
These are families who are having a hard time making ends meet. Any of us could be there. Maybe some of your are. From an anonymous post written by a recipient:
Unless you've been in a similar situation, it's hard to imagine the fear that day to day financial uncertainty can create. Sometimes I feel like I can't take a deep breath. Sometimes I feel like if one more unexpected thing happens, the delicate facade I have created will come tumbling down and I will never repair it. Sometimes I feel like burning the idyllic picture of my family everyone sees and screaming "help us, save us."

In the end, I keep going because the alternative doesn't exist. Because my kids deserve better. Because there is no one to save us. Because no matter how bad things get, there's always someone worse off than us.

And because I tell myself one day this will all be a distant memory. That day, the idyllic picture of my family everyone sees on the outside will reflect who we really are.
I made my donation yesterday. While applications to receive assistance are now closed, here's how you can help:
If you are involved in blogging or social media, please help spread the word. 
If you can afford to help a struggling family, please donate via Paypal. Fifty dollars buys an entire dinner – you can, of course, give less and be grouped with other donors, or give more and sponsor multiple families. (You can also mail checks to: Scary Mommy Nation, PO Box 20866 Baltimore, MD 21209)