When Biz and I realized we would have some rare alone time together while his brother attended a birthday celebration this weekend, he suggested we go to the Coastal Maine Botanical Gardens. He didn't have to twist my arm for that trip since we have a membership, and the fall flowers are gorgeous.
It's one of our favorite places to visit and, really, how could you not want to go out and show off a fall outfit like this?
We went straight for the children's garden so Biz could throw some lobster traps into the water and walk across the rope bridge on the tree house. We then walked to the various bodies of water in the sprawling gardens to search for frogs. We found many, many frogs.
When it was time to leave, I took Biz into the ladies' room with me because he's 5, and I'm just not comfortable leaving him out in a lobby alone just yet. No one was in the bathroom when we first walked in, but three women came in soon after us. The following is what happened during this innocent trip to the women's restroom.
Biz (busting through each bathroom stall, loudly): Where are the stand up toilets, Mom?!
Me (thankful no one was actually in the stalls at that time): There aren't any urinals in the ladies' room, Honey.
Biz (utterly disappointed and attempting to choose a toilet to use): FINE.
Me (waiting patiently until his chooses a stall, as there are now other women in the ladies's room): I'm 2 stalls down from you, if you need me.
*A few minutes pass and I'm now washing my hands at the sink. I hear the sound of clanking metal behind me.*
Biz: Mommy, do you have change?
Me (turning my head to see that he's now at the tampon dispenser): No, I don't have change. Definitely don't have change.
Biz: Please, Mommy? Are you sure? I want a prize.
Me: I don't have any change, and those aren't prizes.
Biz: Yes they are. You put the change here and turn it….What are they then?
Woman in the bathroom (turning the corner to see Biz and laughing): Yeah, Mom. What are those?
Me (attempting to answer with a straight face): It's not a prize machine, Biz. Those are for ladies.
Biz (still messing with the coin dispenser): Whyyyyyyyyyyyyyyy? What's in this thing?
Me: Things that ladies use and boys do not.
At this point, three women are practically in tears laughing, and Biz continues to ask why he can't have what's in the dispenser. I lure him over to the sink to wash his hands. He tells me that he doesn't need to because he never took his gloves off.
Next time, I'm just going to hold it.
p.s. If you like stories like this, you'll love The Mother of All Meltdowns
Each Friday, the another jennifer blog shares stories of those who incorporate philanthropy into their everyday lives – personally and professionally – in a creative and unique way. If you have a story you'd like to share, please contact Jennifer.
Not long ago, I shared information about an ezine called Impact. I even had the opportunity to contribute to an issue. In that original guest post, it was mentioned that Amy Sullivan, one of the brains behind Impact, would be releasing her first book on generous living in the fall.
I'm excited to share with you that Amy's book, When More is Not Enough, will be officially release on Monday, September 22nd. I was honored to have been given an electronic copy to read this week, and I can tell you whole-heartedly that it is absolutely worth your time and money.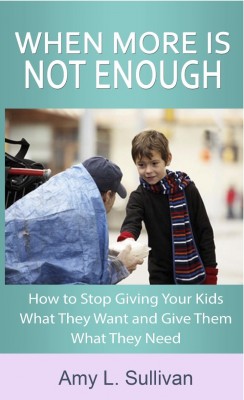 In the book, Amy talks about the simple concept of generous living. To quote from the book,
"To purge the attitude of youth entitlement, we need to teach our kids to serve others. But, to teach our kids to serve others, we must first look at our attitude toward serving. If our families are to understand self-worth isn't tied to the world's standards (Luke 16:14c), we need to implement changes in our own lives, and quickly."
I don't want to reveal too much about the book because it's a quick read that you can enjoy for yourself. It's set up in a way that each chapter stands alone if you want to skip around. There are several resources in the book and great practical suggestions for applying the theme of each chapter in your home, your community, and the world. Amy's writing is inspiring and funny, as she shares her honest experiences in her quest to serve others with her family.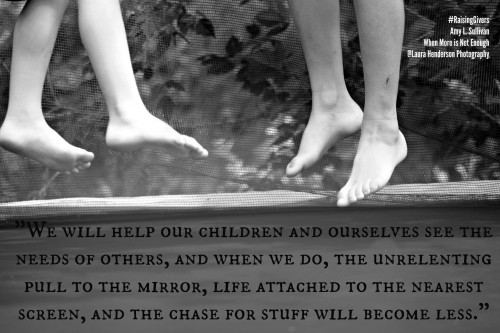 The book, When More is Not Enough, is available for pre-order now on Amazon. Amy is also holding a preorder giveaway on her blog.
Oh, and did I mention all of the proceeds of Amy's book are going to Transformation Village?
I leave you with this great video about the book.
How do you practice generous living?